Challenge Island Evansville Metro
Collaborative S.T.E.A.M Activities for All Ages
Activities for All Ages
Challenge Island is the wildly popular brain-boosting program that provides people of all ages with enriched, fun-filled learning experiences. Founded by the award-winning educator, author, and freelance parenting/education journalist Sharon Duke Estroff, the program takes children on exciting imaginative journeys to an array of thematic islands. Wrapped in whimsical trimmings (headbands, face paint, and the beat of the tribal drum), the Challenge Island program features an unmistakable spirit and flair. Each island is made up of numerous whimsical "destinations" where children work in collaborative tribes on action-packed challenges using only the materials in their treasure chests and their creativity. From chemistry to art, engineering to music, and geometry to mythology, the "island" format allows for enormous flexibility in offering cross-curricular material while developing communication, collaboration, and flexible thinking skills for children of all ages.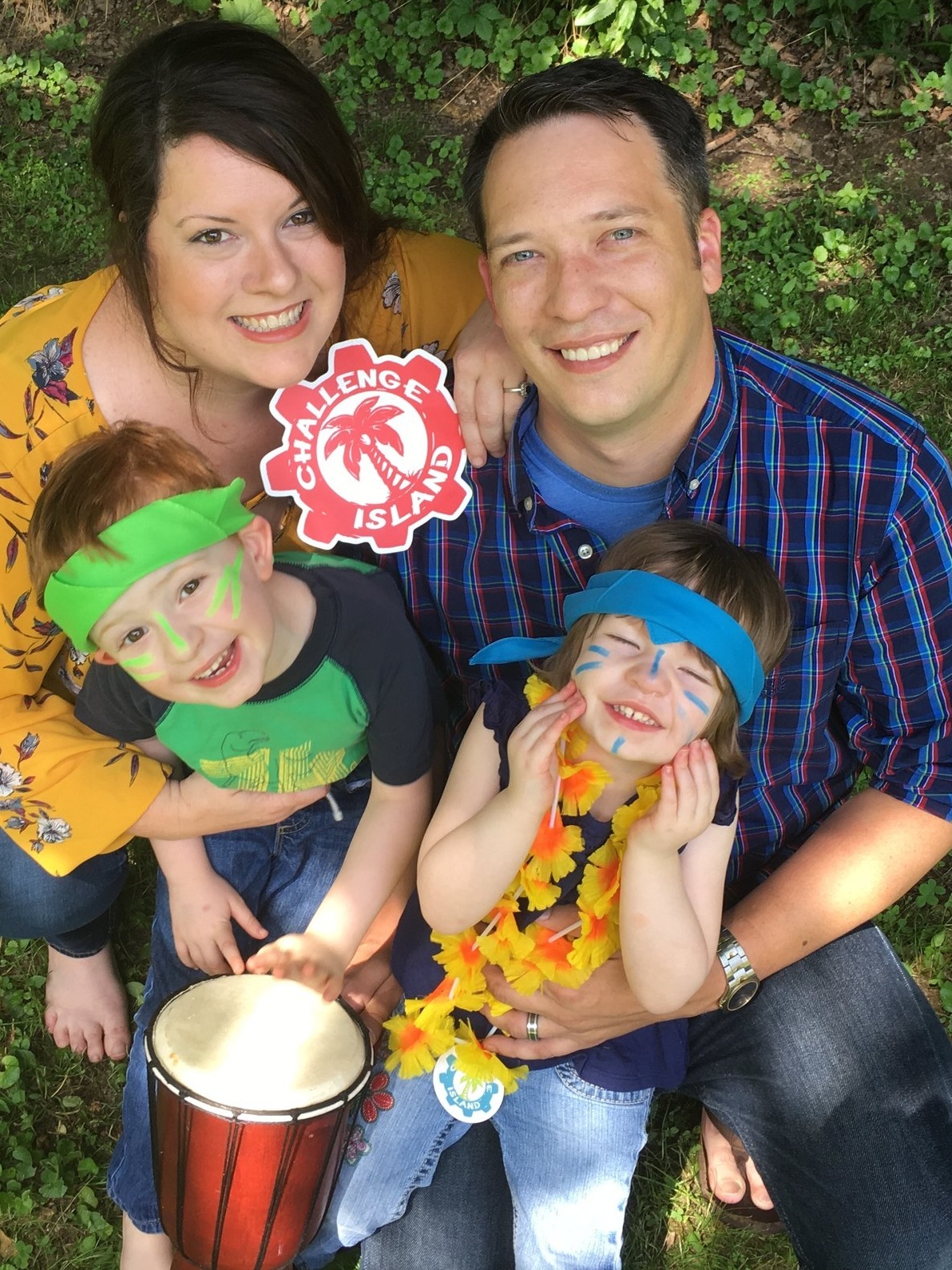 Challenge Island Evansville Metro
We are the owners of the first Challenge Island franchise in Indiana and Kentucky, proudly serving the Evansville Metro area of Vanderburgh, Warrick, North Posey, and Henderson Counties.
We are Jenny and Kyle Lehmann, a husband and wife team along with our two children. Jenny is a former graphic designer, teacher and middle school librarian with a passion for education and the arts (and Pinterest). Kyle, who has a background in retail management and sales, is a self-proclaimed nerd who has a passion for science, tech and engineering and who watches the science channel way too much. Combining our interests, STEAM education is a perfect fit for us.
21st Century Learning & S.T.E.A.M.
Challenge Island is on the forefront of S.T.E.A.M. (Science, Technology, Engineering, Art, and Math) Education and 21st Century Learning Skills providing collaborative challenge-based experiences in the form of after-school classes, in-school workshops, camps, homeschooling events, team building exercises, parties, and multi-generational family adventures. Our unique ability to simultaneously address the needs of both the playful, whimsical child of today and the globally successful adult of the future has brought Challenge Island a sea of accolades from schools, parents, and kids alike.
Services we provide
in-school field trips

after-school programs

family nights and team-building exercises for schools and businesses

homeschool workshops

birthday parties

school break camps

CI Junior for preschoolers

and soon, CI Senior for senior citizens

Challenge Island Evansville Metro believes that no one is ever too old to innovate, design, and create new things. Challenge Island Senior programs are full of fun and fellowship while keeping minds sharp and active. Working together with tribe-mates to complete a challenge builds confidence, social interaction, competence, and keeps the mind active by using all the senses in the engaging learning process. Senior centers, groups, and care facilities will love Challenge Island's brain-boosting adventures for the young at heart.
Follow Challenge Island Evansville Metro on Facebook
Call 812-568-0514
or email jlehmann@challenge-island.com to bring the Challenge Island experience to your school, group, or party.